Hi,
26 November 2012
I have been working on the Scarab 22 pop top. The main components were built some time ago and I had to make the sliding hatch, companion way wash boards and the struts to raise the pop top. The sliding hatch and wash boards I built from foam and glass. The hatch was curved to the same curvature as the main pop top and the wash boards from some spare off cuts from the Scarab 32. I have made a slight deviation from the details on the plans in that I have incorporated a bent aluminium bow at the front which pivots and provides rigidity (side to side). This bow is mounted on slides and sail track fixed to the side of the cabin top. At the aft end of the pop top I have mounted solid 16mm aluminium rods that slide vertically in brackets mounted to the aft cabin bulkhead, these rods are held in the extended position with 'R' clips which bear on the brackets.
Fitting the centreboard and assembling the rudder bits is the next job.
Regards
Ray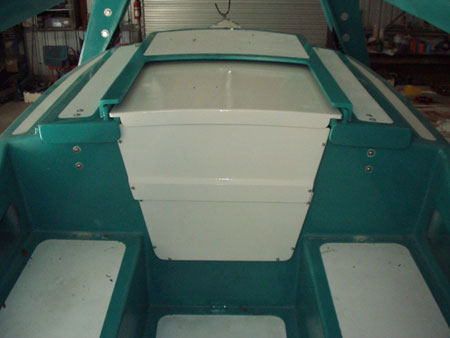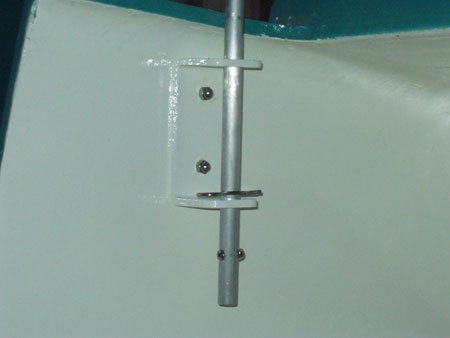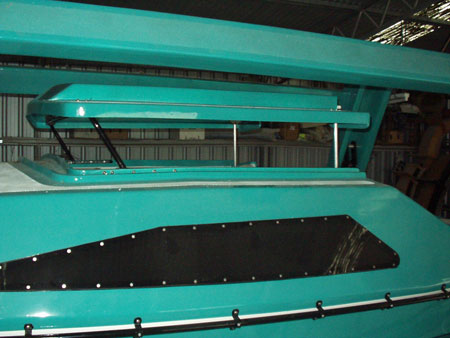 Hi,
1 October 2012
Not much has happened on the Scarab 32 lately, my time has been taken up with regular trips to Sydney dealing with family issues and working on the Scarab 22. I am getting the Scarab 22 ready to sell to finance the 32 and to provide space in the shed to build the main hull. Yesterday Fran and I attached the starboard float beam assembly to the main hull of the 22, the port side was completed the week before. We purchased another portable engine hoist to assist us two oldies lifting and manoeuvring the float/beam assembly which made a great difference, we have at least another two folding trimarans to assemble including the 32 so we thought it would be money well spent. If you are just building one boat and are short of man power, it would be beneficial to hire one or two hoists for a weekend. We got ours from Supacheap Auto on special.
I have been considering using a new paint application system for the next boat after seeing the rolling and tipping results of International and Altex at the recent Sydney boat show. It seems to me to be a great way to apply an acceptable finish without spraying. Our favourite paint, Jotun are also bringing out a product that can be successfully rolled, not available in Australia yet but we will certainly check it out when available next year.
Regards
Ray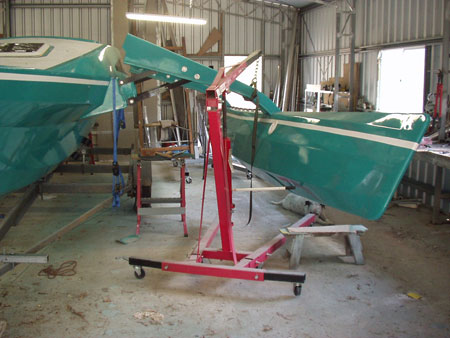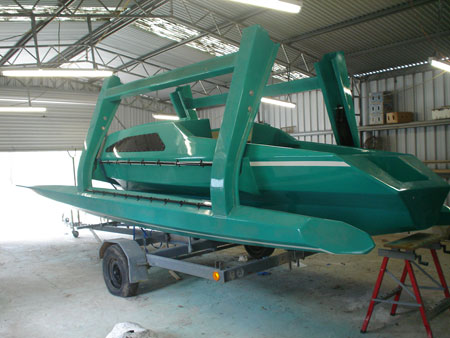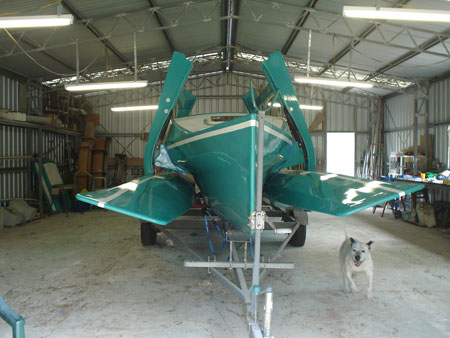 Scarab 32 trimaran
30 September 2012


Hi,
Both Scarab 32 floats have now been finished. The decks are on and taped. The way I made the decks might be of interest to some people.
The foam blank was laminated on one side with unidirectional cloth with the main fibres running longitudinally. This became the underside of the deck. The blank with the uni on the underside was attached temporarily to a non permanent gunwhale. I used scrap 25mm strips of foam and glass screwed to the side of the float at the sheer line. The blank was then bent over the bulkheads and screwed to the temporary gunwhale. The blank was about 15mm larger all around than the final required shape. The top lamination of glass was added to the blank and when cured the blank together with the temp gunwhale removed. Because the screw heads were now covered with glass I used a holesaw with the centre drill removed to cut the glass and foam to remove the temp gunwhale. The deck blank now has a permanent camber which will correspond to the deck beams and bulkheads. Another layer of glass was laminated over the uni directional on the underside and presto, a cambered deck panel without the need for stringers.
This panel was glued down to the beams, bulkheads and sheer (they all had an extra thickness of foam and glass added) and held around the edge with soft steel straps until the glue cured. The straps removed, edge routered (to round off the edge) and then the edge taped. When all this was complete we moved the two floats outside and covered them up with tarps.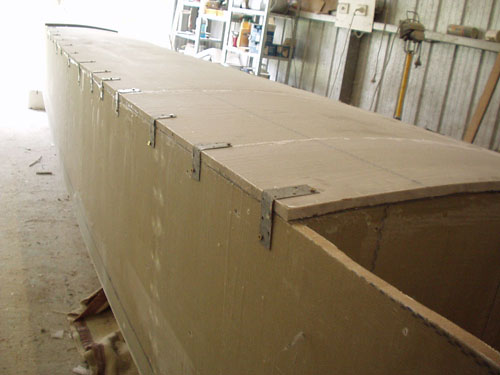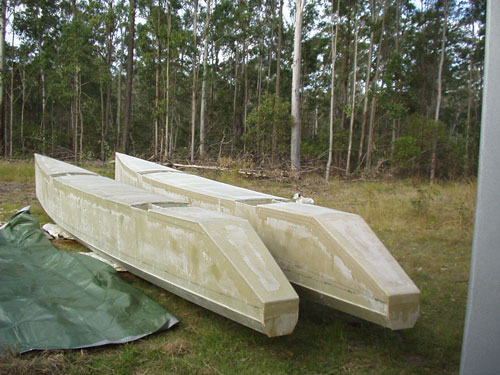 Scarab 32 trimaran
1 May 2012


Just came in from the shed after taping in the bulkheads of the second float of the Scarab 32 prototype.
We use a "wet fillet" method when taping joints. The area to be taped was sanded and coated with resin. The mixture for the fillet is aerosil/cabosil and cotton fibres mixed to a paste with resin. The fillet is formed with a filleting tool that has a radius similar to that of a compacting roller. Pre-wetted tape is applied over the fillet and compacted.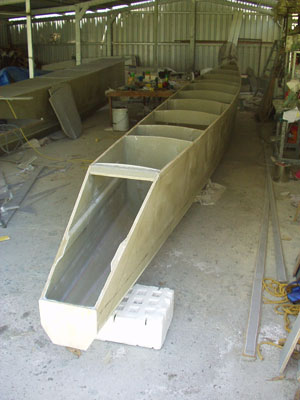 The beam support bulkheads must be double taped. This is easy to do by pre-wetting the tapes, rolling them up together and then placing them in the hull at the bulkhead/hull joint and unrolling over the wet fillet. The tape is then compacted carefully ensuring that there are no air bubbles. This method produces a very strong joint and the fillet does not need to be cleaned up and sanded before the tape is applied.
Next job is tabbing in the deck beams and then hopefully adding the deck at the end of the week.
Scarab 32 trimaran
4 April 2012


Hi,
Things have been progressing at a steady but slow pace on the new Scarab 32 foot trimaran. The starboard float hull is complete up to the filling and fairing stage. This will be minimal as the surface just needs a light skim of filler except at the stem. There are a few layers of double bias cloth around the stem which will need to be filled.
The port float is about 80% complete. Fran has been very busy building the beams (3 complete) and full length foam sandwich panels for the main hull. When each full length panel is complete we trace the outline of the individual hull panels and cut them out. I have made plywood templates of the panels and these are set-up on the full length panel with a string line to ensure accuracy.
I am also working on providing a set of preliminary study plans for the 32 footer. These will be available together with material list soon and be updated by email until they are completed. The full plan set is still a way off yet.
Regards
Ray